Carbon Fiber

Carbon fiber is a polymer made from polyacrylonitrile (PAN). To get carbon fiber from PAN, it is taken through the multiple processes of extreme heating and cooling. Each time it loses hydrogen and nitrogen gases, ultimately becomes almost pure carbon in graphite form.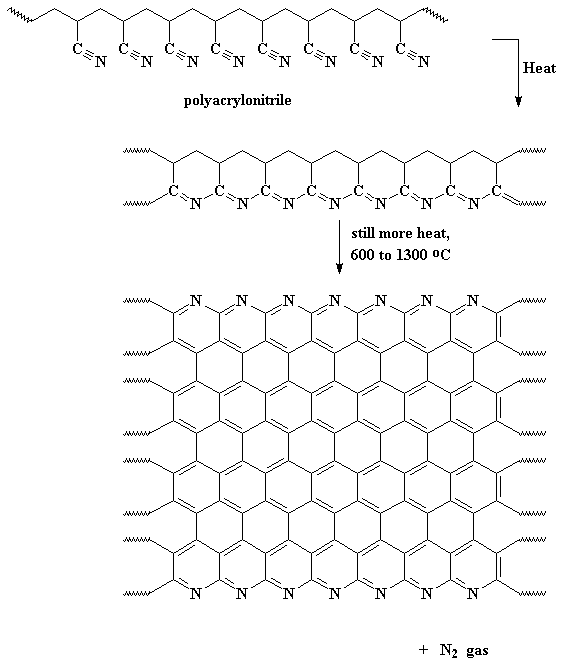 Courtesy of Polymer Science Learning Center



Carbon fiber itself is not very strong. In general, carbon fibers are strong when pulled in the direction of the fiber, but weak when pulled at right angles.

The price of carbon fiber has come down drastically since the late 1960's when high strength grade cost upwards of £200/kg to today's market of between £15-40/kg (pg 33). Carbon fiber has a very high tensile strength as well as having a high resistance to corrosion and fatigue. It is however, very low in impact strength and brittle.

One way to strength the fiber is to weave them together thus giving them strength in more than one direction. Some sample weaves are called twill, satin, basket, leno, and mock leno (pg 38-39). Fibers can also be mixed to capitalize on the best features of each type. Some of these hybrid combinations are carbon/aramid, aramid/glass, and carbon/glass. The last combination uses the carbon fibers for their high tensile compressive strength and the glass to reduce cost (pg 41).


When applied to the correct substrate, or core, the composite material can become even stronger. There are many types of core sold in the US. The most commonly known cores are foam, wood, and nomex honeycomb (Kevlar) fiber. (pg 49) Engineering theory shows that the stiffness of any panel is proportional to the cube of its thickness. (pg 45) Carbon fiber is layered or wrapped around these materials to create a very strong shell.

Thus, what gives carbon fiber its well-known strength is the resin that is applied to it. There are two commonly used types of resins, polyester and epoxy. Polyester resin is the cheaper of the two, is very inflexible, will crack easily, and is prone to warping. On the other hand, epoxy resin is more expensive, more flexible, and maximizes the strength of carbon fiber.

A new proprietary process called Seemann Composites Resin Infusion Molding Process or SCRIMP will let you produce an object of your choice by first building a mold, laying down carbon fibers and then applying an epoxy resin – no core is needed.





---
AF Engineering
http://www.lighter.net/products/fabrics.html
Carbon Fiber Technology
http://geocities.com/CapeCanaveral/1320/
Lousina State Univsity
http://www.che.lsu.edu/COURSES/4205/2000/Strikmiller/paper.htm
Optimum Performance Products
http://oppracing.com/opp_pages.php?page=carbon_fiber_101
MAS Epoxies
http://www.masepoxies.com/
Noah Marine Supplies
http://www.noahsmarine.com/carbon.html
Polymer Science Learning Center
http://www.pslc.ws/mactest/pan.htm
http://www.pslc.ws/mactest/epoxy.htm
http://pslc.ws/macrog/carfsyn.htm
Scale Motor Sport
http://www.scalemotorsport.com/merchant2/merchant.mv?Screen=PROD&Store_Code=SM&Product_Code=1000
SP Systems
http://www.spsystems.com/solutions/general_pdfs/SPGuide_to_Composites.pdf
University of Wisconsin - Madison
http://www.chem.wisc.edu/~newtrad/CurrRef/BDGTopic/BDGtext/BDGGraph.html
US Composites
http://www.shopmaninc.com/epoxy.html